Brandon L. Harr O.D.
Dr. Harr joined Eagle VISION One as an associate Doctor of Optometry in 2019.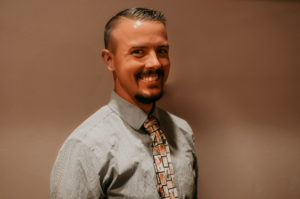 He obtained his Bachelor of Science Degree at Brigham Young University-Idaho where he studied Biotechnology and Chemistry. He then attended Midwestern University College of Optometry in Glendale, Arizona where he graduated as part of the Beta Sigma Kappa Optometric Honor Fraternity. He was part of SGA, and became vice president of the Envision (Business Management) Club.
Dr. Harr is a member of the American Optometric Association and the Idaho Optometric Physicians. He has broad training in and a passion for fitting specialty contact lenses for a variety of conditions including Keratoconus, Pellucid Marginal Degeneration, Corneal Transplants, Severe Dry Eye, Corneal Scarring, Excessive Near Sightedness, and more.
He also has training and interest in diagnosing, treating, and managing ocular diseases such as dry eye, macular degeneration, glaucoma, diabetes, hypertension, pre/post-operative care, infection, inflammation, and foreign body removal.Dr. Harr is qualified for and enjoys working with patients of all ages.
Dr. Harr enjoys woodworking, running, playing basketball, camping, hiking, and spending time with his wife and two daughters.